About the Better Ideas Team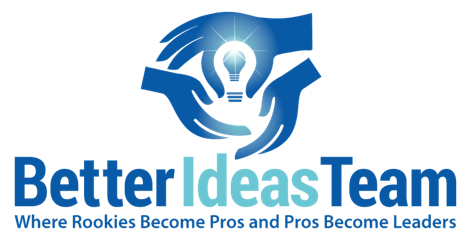 The tagline of the Better Ideas Team is 'Where Rookies Become Pros and Pros Become Leaders".
This tagline represents the mission of the Better Ideas Team to:
"To provide the training, methods, systems and mentoring that can help anyone develop the skills and knowledge needed to become a professional in the Direct Sales Industry and earn professional level income. To enable Direct Sales Industry Professionals flourish into leaders who create extraordinary lives by developing success in others."
The Better Ideas Team believes firmly in the motto of "the whole being greater than the sum of its parts". Founded by experienced, successful entrepreneurs, the Better Ideas Team provides marketing methods, training, systems and support for Direct Sales Professionals. These are "real world" methods and systems that are actually being used to build organizations by the Founders today and are not theories or "techniques" that worked years ago when times were much easier.
This real-world, hands-on approach enables anyone to develop high level skills that wishes to do so. Those skills being 100% relevant to building success in today's Direct Sales Industry.
The Better Ideas Team sought the most exceptional businesses to partner with. Our partnership with Powur reflects our complete commitment to the most well-timed, category creating, extraordinary business-with-purpose that any of us have ever seen in combined decades in the Direct Sales Industry.
The Better Ideas Team is what it says it is – a team. This is not about individuals but we are an organization that will help and support each other and welcome input and leadership from anyone willing to participate.
Andrew Smith
Lifelong entrepreneur Andrew Smith is the Founder of the Better Ideas Team. Andrew built a special events company from scratch that became one of the most respected companies in that industry.
Andrew's company provided large fabric structures and ancillary equipment for events such as Superbowl, US Open and US Masters Golf, Barrett Jackson, Texas State Fair and many others.
Having sold that company, Andrew has been full time in the Direct Sales Industry for the last 10 years. In building organizations of thousands over that time, Andrew understood and developed a huge drive to help people overcome the challenges faced by so many people in achieving the success they dream of in the Direct Sales Industry.
The Better Ideas Team then represents the fruits of experience of a decade of specializing in the building of marketing, management and training systems that have helped many flourish in Direct Sales already. The tag line of the Better Ideas Team "Where Rookies Become Pros and Pros Become Leaders" perfectly describes this culmination of developing processes that work, combined with the drive to help those that wish that help, to succeed.
Andrew is a devoted family man with a young Son. His Son is his inspiration on a daily basis to create abundance with a true purpose. He sees purpose-driven entrepreneurship as the "True American Dream".
Andrew's vision for the Better Ideas Team is to create an environment where the whole truly is massively greater than the sum of its parts. The team is a cooperative venture and you will find Andrew to be approachable, authentic and driven to help wherever he can.
Raphael Conelly
Raphael started his first business in 1988. It was in the photography industry. In 1994 he relocated to Los Angeles and by 2006 Raphael had built a publications and clients list including Vogue, American Cinematographer, Capitol Records and PBS, to name a few. His portfolio includes Oscar, Emmy and Grammy award winning talent.
Since his time in Los Angeles Raphael has founded and launched a nationally distributed magazine and a litigation support service. After five years building and running those businesses he opted to sell his interest in order to co-found The Better Ideas Team with Andrew Smith.
A lifelong entrepreneur, Raphael quickly identified the vision behind, and opportunity within, The Better Ideas Team. As he puts it, "We have a better business model for bringing products and services to market, and in so doing we bring benefit to whole Better Ideas Team and to the world."